Greater Boston's HVAC, Plumbing & Air Quality Experts
For over 25 years, New England Cooling Towers, Inc. has been providing the highest standard in heating, air conditioning, air quality and plumbing products and services to customers throughout the Greater Boston area. With the expertise of our highly-trained staff, we can handle the needs of all commercial, industrial and residential clients from system design to installation and preventative maintenance to 24-hour service.
New England Cooling Towers, Inc. is ready to handle any job – large or small.
Customer service is our specialty and we are committed to providing our customers with the knowledge to decide which products and services best suit their needs. Using our high-efficiency and Energy Star® rated HVAC and air filtration systems, we can help you use less energy, cut down on utility costs and live and work in comfortable, healthy interior spaces year-round. Learn more about why our customers enjoy working with us.
We complete each job with a 100% satisfaction guarantee.
**Special Offer**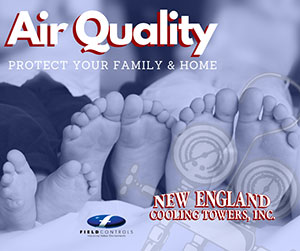 During this time we have all started to clean the surfaces in our homes much more but we might have forgotten about the air quality in our homes. New England Cooling Towers, Inc is dedicated to keeping your family and home safe. If you feel that your air quality in your home is not at its best, we are able to install an Air Purif Duo-14.
The typical starting installation cost is $862; which includes the installation and the Air Purif Duo-14. While supplies last and there are other options available. If you are interested in learning more, click here to watch an informational video.
In this time, we have all become more self-aware than ever and our team has taken and will take all precautions in order to keep ours and your family safe.
If you are interested in scheduling an installation, please email Lori at lurraro@nectowers.com or call (978) 649-6001 and ask for Lori Urraro.