Gas-fired Boilers
With fluctuating energy prices and a growing concern for the environment, it pays to modernize your outdated gas-fired boiler. You will save money, and the environment too.
Reduce Unnecessary Waste
There are an estimated 20 million homes in the United States with heating systems 20 years of age or older. For most of them, a significant share of energy and money go to waste unnecessarily every year due to outdated technology and an improperly sized system. Along with wasting energy, these boilers contribute to climate change by needlessly releasing harmful CO2 emissions. By replacing an outdated system with a high-efficiency gas-fired condensing boiler, a homeowner can expect to save as much as 30% on their annual heating bills. This not only results in significant cost savings, but also environmental savings with reduced CO2 emissions.
A Modern Solution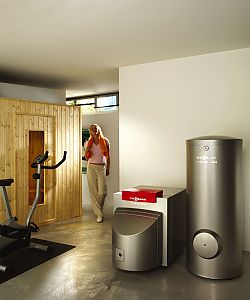 With Veissman's Vitodens 100 and Vitodens 200 Series, they offer a complete line of high efficiency, gas-fired condensing boilers. Equipped with a corrosion-resistant stainless steel Inox-Radial heat exchanger, the Vitodens Series boilers can safely operate at extremely low boiler water temperatures. For you, this greater energy utilization translates into reduced heating costs as well as a smaller environmental footprint. Plus, the Vitodens200 Series gas-fired condensing boiler comes ready for the future by automatically adjusting to all gas types – including conditioned biogas.
Added Performance
Solar thermal systems are ideal for integration with your new oil-fired boiler and can lower your energy costs even further.
Let your new oil-fired boiler heat your home's domestic hot water and save up to 50%.