Mitsubishi City Multi
The Mitsubishi Electric City Multi system offers powerful and efficient - yet flexible - solutions that help you meet a wide range of cooling and heating needs, even in some of the most challenging buildings. With the wide variety of environments - from retail to office to living - the cooling and heating needs of a single building can be significant. Applications for this system include:
Low-rise multi-zone buildings
High-rise multi-zone buildings
Office buildings
Mixed-use
Multi-tenant dwellings
Historic renovations
Quiet spaces
Industrial
Data centers
The industry-leading VRF zoning systems are designed to be modular and configurable and provide you with many options to design best solution for your unique needs:
Indoor units come in ducted and ductless variations and are designed to be placed just about anywhere you want in your interior spaces. Our ductless configurations free up valuable interior space so you can increase ceiling height or even get more usable floors without increasing your building envelope. And, our ducted systems have a low profile, reducing the amount of ceiling space required to conceal the systems.
Condensing units have a wide range of capacities depending on your needs and can utilize a number of cooling and heating energy sources. They are compact, quiet and simplify system design.
Whether you are building from the ground up or renovating an existing building, Mitsubishi Electric Cooling & Heating provides you with the solutions that effectively and efficiently perfect the comfort of indoor environments.
Unbeatable Zoning Ability
Mitsubishi Electric's VRF zoning solutions are designed to give you unprecedented control over all of the zones in an office building.
Efficient Systems that Reduce Costs
With innovative INVERTER and expansion-valve technology, Mitsubishi Electric Cooling & Heating systems consistently perform at 25 percent higher efficiency than traditional systems.
Quiet Environments for Your Tenants
Mitsubishi Electric Cooling & Heating systems have been thoughtfully designed to minimize disruption to your interior and exterior environments.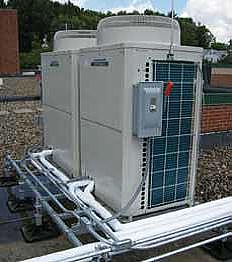 Tenant Metering
Gives you the ability to bill out for HVAC electricity consumption per tenant rather than resorting to approximate usage. You can also tally electrical usage per system or per indoor unit, depending on how your building and systems are configured.
HVAC Simplified
Mitsubishi Electric Cooling & Heating systems have been designed to simplify everything from design to installation, integration, management and maintenance.
Building Integration and Controls
The CITY MULTI line is designed to seamlessly integrate with other building controls via LonWorks or BACnet® for collective control of all building systems.