Geothermal Heating and Cooling
Think energy efficiency.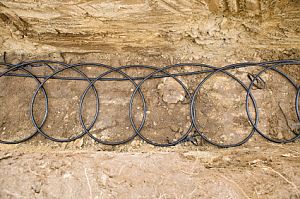 Geothermal systems use technology known as ground source heat pumps to make the transfer of hot and cool air more efficient.
Because the system works with the relative temperature of the earth instead of the variable temperatures above ground, geothermal heating and cooling systems use 40-60% less energy than conventional systems.
Why Geothermal?
Home and business owners receive superior energy ratings
Deliver comfortable air year-round, regardless of the temperature outdoors
Low operating costs
Energy efficient
Clean
Environmentally friendly
Requires lower maintenance than traditional heating/cooling systems
Quiet and compact
Contact New England Cooling Towers, Inc. to find out if a Geothermal System might be right for you.