Oil-fired Boilers
Today's leading oil heating technology is clean-burning and efficient. Unlike older systems, which are often outdated and unclean, modern oil heating can reduce fossil fuel consumption and help mitigate the effects of climate change.
A Modern Solution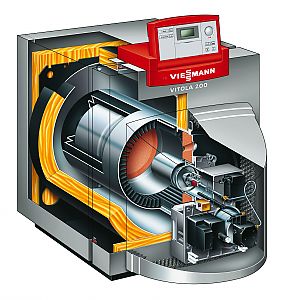 With the Vitorond 100 and Vitola 200 Series, Veissman offer a complete line of low-temperature oil heating boilers. Compared to traditional boilers that operate at a high water temperature all the time, Veissman boilers modulate the boiler water to the outdoor temperature. For you, this means a significant reduction in heating costs and a smaller environmental footprint. Veissman boilers are equipped with a unique, stainless steel combustion chamber for clean, efficient combustion and long-term, worry free operation.
Added Performance
Solar thermal systems are ideal for integration with your new oil-fired boiler and can lower your energy costs even further.
Let your new oil-fired boiler heat your home's domestic hot water and save up to 50%.